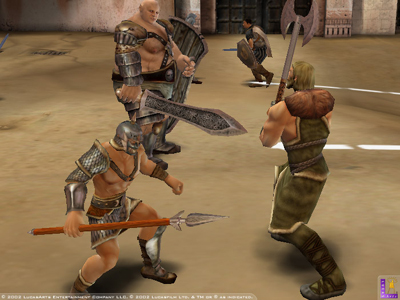 Weapons are the primary offensive tool a gradiator may wield, and one of the most important items to consider in a fight.
Each weapon can grant positive or negative affects upon a gladiator's physical stats, and affinity attack charge. Some carry special stats and effects that could confer a certain advantage in a particularly difficult battle, or boost their power for more common situations. Most weapons improve the user's ability to fill their affinity charge bar, pending on which affinity they're aligned with. Variants of the same weapon can usually be purchased from a store. Beast type gladiators cannot use weapons.
Weapons are designed to be wielded by specific gladiator types, and cannot be used by others unless cheat codes are activated.
Weapon List
Edit
Achinaces
Asa
Asaya
Axes Conseco Bazo
Bone Club Cathain
Chopper
Claymore
Crescent Moon
Crowbill
Cudgel Dadao
Dahshat
Dalima
Dammar
Death's Head
Dolorire
Double Hookblade
Double Scramasaxg
Echos
Elephant Axe
Falcatta
Falx Supina
Fang
Fazwan
Flamberge
Flaming Bow
Francisca
Goupillon
Half Moon
Heavy Bottle
Heavy Spear
Herebera
Hoeroa
Hook Axe
Horn Hammer
Javelin
Ivory Mallet
Khanjar Set
Kheten
Kinetic Staff
Leviathan
Liberation
Light Pick
Mainz
Mongile

Naboot
Naginata
Partisan
Pickaxe
Plombee
Poison Axe
Pole Axe
Quaddara
Quadrelle
Quarterstaff
Recurve Bow
Rounded Axe
Saif
Samaam
Sapara
Scimitar
Shank
Shoum
Sica
Sickle
Silver Bow
Sinan
Slayer
Sligi
Skullbasher
Snakeskin Bow
Stone Axe
Tawuus
The Crusher
Throwing Axe
Tono
Tou-Fung
Tschehouta
Twin Vipers
Veneficus
Weighted Mallet
Wooden Bludgeon
Xan
Zulf-I-Khar